Support the Japan Society
As we celebrate the holiday season, I hope that you will consider to make a gift to the JSSDT in support of these important programs listed below.  Every gift, from $10 to $5,000 makes a difference and allows the JSSDT to continue providing outstanding services within our community.  Please click Donate Now! to make your gift.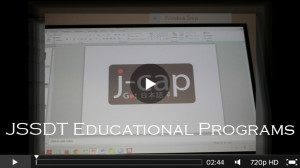 Japan Society's Educational Activities & Events
J-CAP (Japanese Cultural and Academic Proficiency) Competition – High school students participating in fun and rewarding language competitions and cultural activities.
San Diego-Yokohama Youth Baseball Exchange – Middle school students participating in a full intercultural exchange over 2 years with baseball as the common activity.
The TOMODACHI/NAJAS Ofunato – San Diego Youth Baseball Exchange – Providing positive intercultural experiences and forging new and lasting friendships with the Tohoku region of Japan are the true goals of TOMODACHI.
Kyoto Laureate Symposium – The Kyoto Prize is Japan's highest award for human achievement.  Each year, Kyoto Prize laureates gather in San Diego in the spring for a 3-day series of events and presentations that are attended by thousands of students and adults from all over the San Diego-Tijuana region.
City of Kagoshima "Wings of Youth" Program – Sports and cultural exchanges for students from both cities.
Kiku Gardens Senior Outreach Luncheons – JSSDT staff and volunteers create the menu and prepare lunch for seniors every other month.
Casa Hogar School Supplies – Supplies collected at our annual Bonenkai and delivered to needy children at Casa Hogar in Tijuana.
Japan-In-A-Suitcase – Cultural demonstrations and performances at schools, libraries, and senior centers.
Internship Program – The JSSDT accepts high school and college students as interns every year.